New York leaders must not let health insurance companies co-opt patient protection law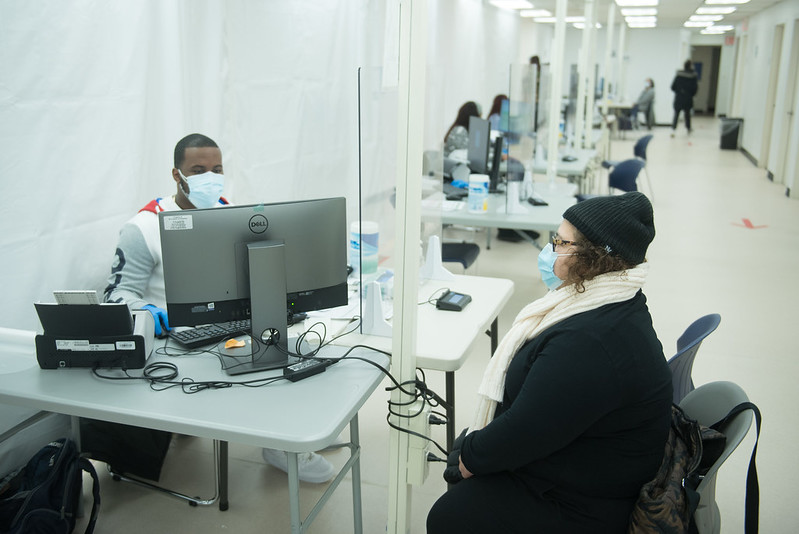 Health Care Research (Photo: Michael Appleton/Mayor's Office of Photography)
---
In 2014, New York became the first state to enact law on surprise medical bills. Congress followed suit in 2020 with the law without surprise.
Now, as Governor Hochul works to bring New York's law into line with federal standards, health insurance companies are trying to co-opt the law with a one-line provision they lobbied for in the Hochul's budget proposal that would put healthcare providers at a disadvantage in billing disputes. If approved by lawmakers, this biased proposal will threaten access to life-saving emergency care while boosting health insurers' already record profits.
Surprise medical bills, which have long plagued the US healthcare system, occur when a patient receives care from an out-of-network physician, typically in an emergency room or outpatient setting where the patient was unaware that the attending physician was out of network and the insurer refuses to pay.
For years, surprise bills have placed a heavy burden on American families, leaving them to cover the full cost of emergency care as insurers collect escalating premiums. By implementing a dispute resolution process for out-of-network care, New York's landmark surprise bill statute has rightly ensured that out-of-network billing is resolved between insurers and providers, saving patients from having to pay for out-of-network emergency life-saving care. poached.
New York's surprise bill law became the model for the federal No Surprises Act — and for good reason. In the first three years of its implementation, the New York State Department of Financial Services found that the law consumers saved over $400,000,000. The process is both fair and accessible, allowing each party to present its best offer to an independent arbitrator who in turn selects the most reasonable proposal. In doing so, the model encourages disputing parties to submit fair claims to the arbitration process while ensuring that neither party has additional influence over the decision.
But the governor's executive budget contains a provision requiring dispute resolution arbitrators to consider the average payment that an insurance company would reimburse to network providers, also known as the eligible payment amountor QPA. Expressly requiring the inclusion of median reimbursement amounts – the consideration of which is already permitted under the current dispute resolution system – in the arbitration process would offer a significant advantage to the insurer.

If passed, the inclusion of this amount would result in the loss of more physicians in the dispute resolution process. How? 'Or' What? The insurance company rate is by no means a verifiable market rate charged by doctors day in and day out. Rather, it reflects the market power of insurance companies. Using these same measures, an American Hospital Association survey found that Medicare reimbursement was $53.9 billion lower than actual costs. For patients, this formulation would be disastrous, as medical professionals would be less likely to provide emergency care and other services.
Simply put, these payment reductions would drive many of the affected practices out of business. This leaves patients without the care they need. Moreover, this budget language is not required by federal law; In reality, The Eastern District Court of Texas rejected similar provisions inserted into the regulatory code last month..
Despite this, it's no surprise that insurance companies — ever keen to get more out of patients and providers — have identified New York as the next frontier to tip the dispute resolution ladder in their favor. . The legislature has rejected any surprise billing language, both good and bad, from their single-house proposals, but who knows what will end up in the final budget deal scheduled for April 1.
Health insurance companies are massively profitable and have exploded in value over the past decade. Take, for example, UnitedHealthcare, whose shares were trading at around $50 per share in March 2012; ten years later, UnitedHealthcare shares are trading at about $500 per share. Despite record growth and profits, insurers continue to raise premiums without expanding coverage, increasing the already heavy burden of health care costs on American families. The new provision in the Executive Budget is a transparent industry power grab that would accomplish nothing for patients and providers while fueling ever-increasing profit margins for insurers.

The resounding success of insurers in recent years stands in stark contrast to the situation facing many independent medical practices in New York and across the country. When COVID-19 first swept the country in 2020, and as the Delta and Omicron variants surged last year, healthcare providers had to interrupt elective procedures, losing a vital source of income, while many patients chose to delay or even forego care altogether. When the federal government allocated aid to hospitals in response to the pandemic, the vast majority of funds went to large hospital systems, with some like Northwell Health receiving more than $1 billion. Small independent vendors, on the other hand, have largely been left behind by Uncle Sam.

If the new provision imposed by insurance companies is adopted, the impact on independent providers and the communities they serve will be devastating. A dispute resolution process in favor of insurers will significantly reduce provider revenues – while large hospital systems might be able to absorb such a hit, many smaller independent practices might be forced to close, which would cost important healthcare jobs and reduce the number of options available to patients.
Health insurance companies, it seems, will never settle for record profits. Ever seeking to extract more profit from hard-working New Yorkers, insurers have spared no effort in trying to overturn the state's surprise law, the impact on providers and patients be damned. The question remains: will our leaders stand up to the insurers or will they be allowed to circumvent the law for their benefit?
***
Christopher Sheeron is president of Action for Health, a nonprofit advocacy organization dedicated to ensuring equitable outcomes for critical health issues.
***
Got an opinion idea or submission for Gotham Gazette? E-mail This email address is protected from spam. You need JavaScript enabled to view it.