ICAI signs MoU with Qatar Financial Center to export accounting services to Qatar and explore professional and business opportunities for Chartered Accountants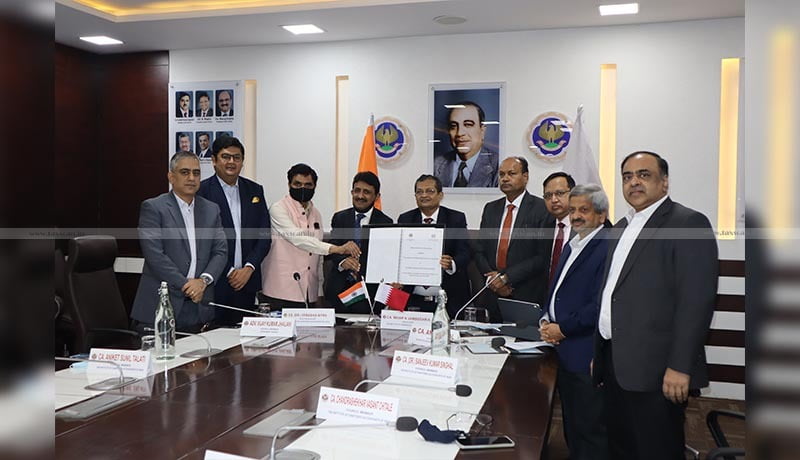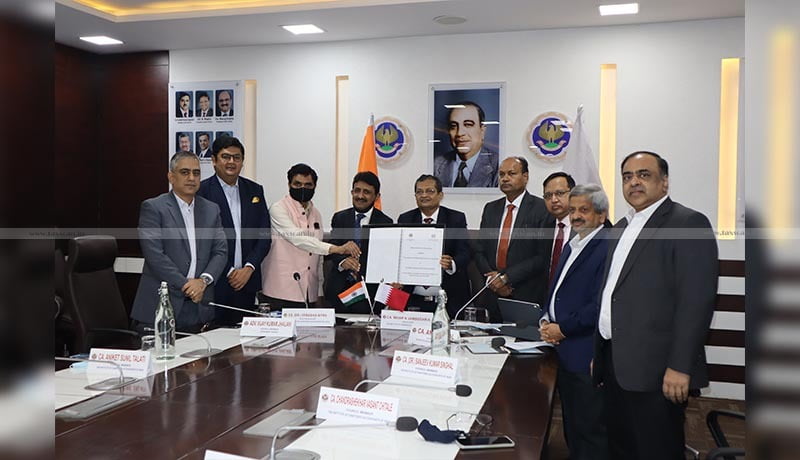 The Institute of Chartered Accountants of India (ICAI) has signed a Memorandum of Understanding with Qatar Financial Center (QFC), Qatar to export accounting services to Qatar and explore professional opportunities and business for ICAI members through collaborative initiatives.
The MoU was signed by CA Nihar N Jambusaria, Chairman, ICAI and Mr. Yousuf Mohamed Al-Jaida, Managing Director, QFC. The agreement will pave the way for closer collaboration between QFC and ICAI on mutually beneficial initiatives, including increasing opportunities for ICAI members in assurance and auditing, consulting, tax, financial services and other related fields. Through this partnership, the two organizations will support Indian companies wishing to establish themselves in Qatar and explore available opportunities through joint roundtables, networking events and other exchange programs.
AC Nihar N Jambusaria, President, ICAI said: "It is a step forward to work closely with each other drawing synergies from the professional expertise available on both sides, particularly in the areas of audit, assurance, financial services, taxation, etc. The signature of this Memorandum of Understanding between ICAI and QFC has opened up many opportunities for Indian Chartered Accountants in this part of the world and would, in turn, be an impetus for the growth of the economies on both sides. ends." He also mentioned that the ICAI Doha Chapter, the oldest chapter established in 1981, is instrumental in finalizing the MoU and is registered under QFC. He further added that the chapter is affiliated with the Indian Business & Professional Council under the Indian Embassy in Qatar.
Mr. Yousuf Mohamed Al-Jaida, Managing Director of QFC, said: "The signing of the agreement with one of the largest accounting bodies in the world marks another important step in our efforts to strengthen human capital and promote entrepreneurship in Qatar. Through this partnership, QFC and ICAI will strive to enable Indian entrepreneurs, investors and innovators to use our platform and set up their businesses in Qatar to become part of the robust Qatar market. Supported by Qatar's vibrant business ecosystem and our strategic location, this agreement will further improve the state of Qatar's financial services sectors in the years to come.
The event was also honored by Doctor Deepak Mittal, His Excellency the Ambassador of India to the State of Qatar as Guest of Honour. In his remarks, he mentioned that "India and Qatar enjoy cordial relations and the great contribution that the Indian community is making to Qatar has strengthened the deep-rooted friendship between the two countries. This is a very welcome step. that the two institutes have come together for the benefit of the accounting fraternity at each end.He also assured his full support and cooperation in various endeavors of the ICAI in Qatar.
Through this partnership, QFC and ICAI will work together to nurture and develop local Qatari professionals, entrepreneurs and students through specialized training; explore opportunities for study exchange programs for QFC and ICAI employees; collaborate on opportunities that may arise in the areas of corporate governance, research and technical advice, quality assurance, forensic accounting and Islamic finance; and share information regarding the accountancy profession in India, Qatar and internationally.
Support our journalism by subscribing to Taxscan AdFree. Follow us on Telegram for quick updates.